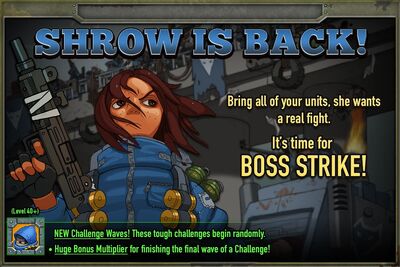 Someone Hasn't Learned... Edit
Boss Strike is continuing to evolve, and BS13 is bringing some new twists along for the ride.
First off, there are no unit limitations. Shrow wants a fight and she wants you to bring everything you've got. But…
Too Hot to Handle, Too Cold to Hold - The Boss Strike encounters will feature Environmental DOT (Damage Over Time). As a result, for the duration of this Boss Strike the Silver Wolves will gain immunity to Flame DOT (in addition to their Cold DOT immunity). Planning makes perfect, so start preparing your troops now!
We are also introducing Challenge Waves! These waves will begin randomly when you start a Boss Strike battle. If you see the Challenge icon, be ready for an extremely tough fight. If you are able to complete the final wave of a Challenge, there will be a huge bonus multiplier waiting for you.
Finally, the Guild Weight increase introduced during our last Invasion also applies to Boss Strike! The minimum has been increased from 20% to 50%, you can check out the full breakdown here
Shrow needs to be taken down and it's up to you and your Guild to stop her, good luck!
Units with Fire ImmunityEdit
Melee Frag
Legendary Sandworm
Nomad
Painmonger
Atmo MK1/MK2
Portable Walls
Phalanx Tank
Egg
Ranged Frag
Legendary Raptor
Bora Hovercraft
SUV
Mech Trooper
Boar II plane
Spiderwasp Warrior
Ancient Sentry
Plasma Turret
Elemental Trooper
Flying Frag
Aero Jetpack
Weapon Tech
Shadow Agent
Flame of Love Archer.
Mini Sub
Baby Grouper
Buoy
SW Fury
Raider Summoner
Sub
Tactical Sub
Tentacle
Unicorn Trooper
Units with Cold ImmunityEdit
Mammoth Tank
Nomad
Painmonger
Thresher Tank
Legendary Mammoth
Legendary Boar
SW Garbage Truck
Mammoth Matriarch
Bigfoot, Shaman
Jedrek the Crusher
Brute
Mammoth Artillery
Plasma Turret
Elemental Trooper
Heavy Arctic Tank
Hell Fire Plane
SC Turret
War Mammoth
Arctic Tank
Field Tech
Falcon Plane
SW Pickup
Young Mammoth
SW Scrapper
SW Thug
Young Bigfoot
SW Devastator
Railgun Tech
Chucker
Cryo Trooper
Technician
L Turret
F Turret
Lumberjack
MG Turret
Minuteman
Engineer
Fireworks truck
Hunter (sniper)
Pyro
Hunter
SW Grenadier
SW Fury
Infected Bigfoot Mauler
Apex Mauler
Buoy