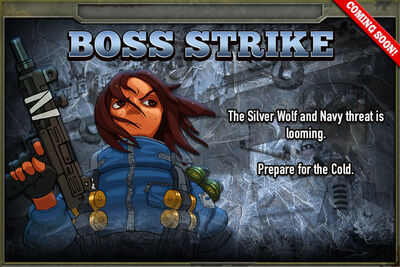 Shrow has dusted herself off once more and is ready for another all-out Boss Strike!She's bringing the full force of the Silver Wolves, Sovereign Navy, and Reef Bandits to annihilate your Outpost. Prepare yourself for a devastating war waged on both land and sea! This will take the full strength of your forces and all your wits as a Commander.
Plasma guns and lava breath will only get you so far, though, so don't get cocky. Dealing with the Cold is your top priority, as all land encounters will feature Cold Environmental Damage. A shattering wave of Cold damage will hit the battlefield after each turn, so choose your units wisely.
Take the Silver Wolves and Navy head-on to claim top tier Prizes for you and your Guild. This is what you're fighting for!
Boss Strike is back, baby!

Tier 3: Tri-Wing Terror

Tier 5: Mini Sub 
Tier 7: F-51 Hell Fire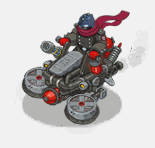 Tier 10: T16 Aero Bike 
Promotional Unit Edit