Dr. Vogel invents Flying Dexter, Elders get new toy to play with!
Edit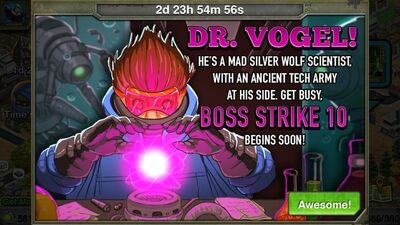 Get ready for a new Silver Wolf threat! Dr. Vogel and his Ancient army have launched a boss strike on your Outpost. Team up with your guildmates to battle him.
One prize is expected to be some kind of flying dexter fragment. The limited unit is likely the Mechanized Trooper. Donation is likely to be lumber if the previous pattern of concrete then lumber is followed.
Track points progress on the BS10 Points page so we can chart progress.
Tiers and Rewards
Edit
| Tier | Reward | Points to Earn | Total Points Earned | Time Remaining upon Completion | Time Remaining BS7 |
| --- | --- | --- | --- | --- | --- |
| 1 | 4,000 | 5,500 | 5,500 | 4d23h | 4d 23h |
| 2 | 20 | 25,100 | 30,600 | 4d23h | 4d 23h |
| 3 | Attack Drone | 82,200 | 112,800 | 4d23h | 4d 23h |
| 4 | 30 | 213,600 | 326,400 | 4d23h | 4d 23h |
| 5 | 45 | 446,700 | 773,100 | 4d22h | 4d 22h |
| 6 | 40 | 813,800 | 1,586,900 | 4d19h | 4d 21h |
| 7 | Silverwolf Chunook Helicopter | 1,263,600 | 2,850,500 | | 4d 18h |
| 8 | 10 | 1,897,300 | 4,747,800 | 4d1hr | 4d 13h |
| 9 | 100 | 3,468,900 | 8,216,700 | 3d5hr | 4d 2h |
| 10 | Flying Dexter Fragment | 7,043,200 | 15,259,900 | 2d2hr | 3d 6h |
| 11 | Flying Dexter Fragment | ? | ? | | ? |