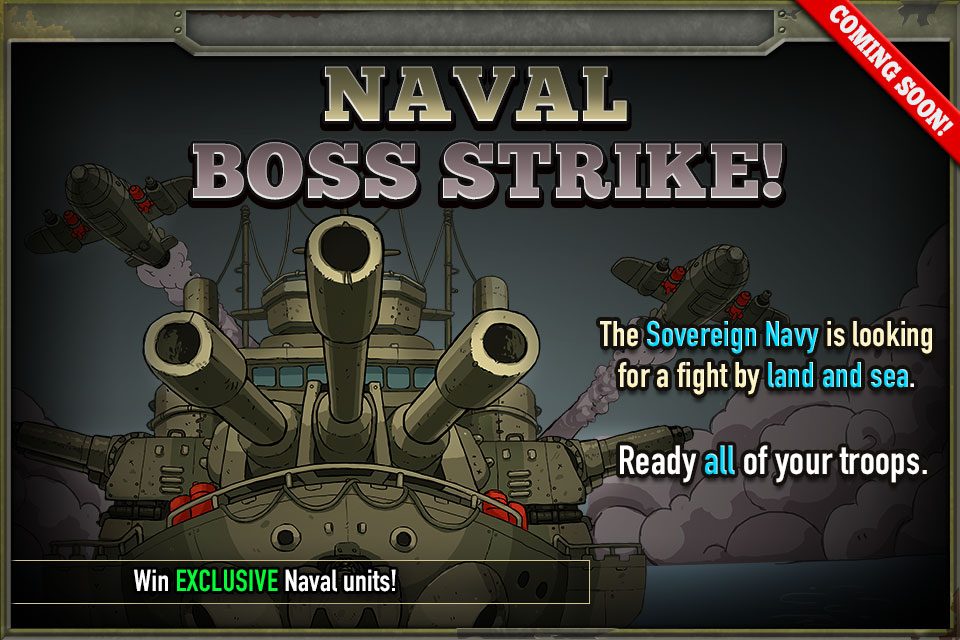 Citizens!
A dark cloud is rolling toward the shores of your Outpost. The Sovereign Navy is coming to wage an all-out war. Ready your troops, it's time to fight!
This Boss Strike will feature a mixture of land and naval battles. The naval battles will take place in both the bay and the open ocean. The bay allows use of all aircraft and naval units, the open ocean restricts the use of light aircraft. If you see a strip of land at the top of your battle, you're in the bay.
Boss Strike Encounters on land will have unit limitations depending on your level. Up to level 30, the battle limit is 10 units. 31-35, the limit is 9 units. 36 and up, the limit is 8 units.
The Naval encounters will only be available to players level 25 and up. All naval encounters will be limited to 8 units plus 2 defensive units. Plan your battles accordingly!
Join together with your guild to achieve higher tiers. Earning top tiers will net you exclusive naval units, including the Navy Trooper, Mini Subs, and the Minelayer Destroyer!
This war must be won. Good luck!

Tier 3:
Navy Trooper

Tier 7: Mini Sub

Tier 10:
Minelayer Destroyer 
Promo UnitEdit

Suggested Formations
Edit